Write Your Professional Bio — Today!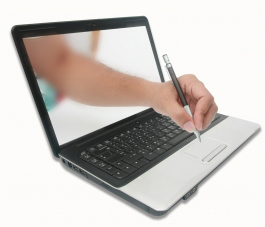 If you're launching a coaching practice — or any business — a well-crafted, professional bio is one of your key marketing tools. Your mom knows how awesome you are, but potential clients only know what you tell them, especially if they're meeting you online. Your bio is a miniature, story-based resume that helps you sell your unique skills.  
You might be wondering, "What exactly do I put in a bio and what do I leave out? And how do I get the darn thing written?"
Let's demystify the professional bio by breaking it down to its basics, starting with what a bio is not.
Your bio is most definitely NOT:
A summary of your life story
Your entire work history
A boring list of dry facts
That's a relief, right? Because summarizing your entire life and career in a few sentences would be just a tiny bit … impossible. So then, what IS a bio, and what can it do for your business?
Your bio is:
A sales pitch that doesn't sound like one
A tool that establishes your credibility as queen/king of your niche
A spotlight for controlling what people notice about you
It's Time to Write Your Bio
You've put it off long enough. Or the one you've got just isn't working. Or it needs to be updated. So, let's get started.
Before you sit down to write, do a little self-discovery. You could call a couple of clients or friends and ask them what's special about you. What do they count on you for? If you have a resume, print it up and see what connects to your coaching work. Jot down any experience you've had, paid or unpaid, that relates to your niche. Ask yourself, "What have I done that makes me a great coach?"
When you're ready to write, sit down with:
Your self-discovery notes
Writing tools of your choice
Background music (helps get your creative groove on and quiets the inner critic)
Bio-Writing Cheat Sheet (see below)
Fill-in-the-Blanks Template (also below)
The Bio-Writing Cheat Sheet
Get your bio on track with these guidelines:
Keep it short — About 125 words in 7 to 10 sentences.
Use third person — "She" or "he" instead of "I."
Be serious but friendly — Professional with a touch of personality.
Stay focused on your niche — When in doubt, ask yourself, "Will this detail help convince clients to work with me?"
Hit the high points — Include certifications, significant clients and organizations, awards, trainings. Save the detail for your About page or resume.
Get creative with qualifications — Not enough education or experience? List what you do for your clients in bullet points. Ask friends what they count on you for and what gifts you bring to clients.
Use a template — Try the Fill-in-the-Blanks Bio Template below, or find another bio you like and model yours after it.
Proofread — No, not just spellcheck. Send it to an eagle-eyed friend or professional editor. At least put it aside for a day, then print it out in a different font (it's hard to catch mistakes on screen).
Make it relevant — Tweak the length and content to suit where you're using it.
Keep it current — Update every 6 months, so it evolves as you do.

Fill-in-the-Blanks Bio Template
If you're feeling lost, start your bio by filling in the blanks in this template:
[Your name here] is a [your role here], who specializes in [your fabulous niche talents and skills listed here]. She coaches [what kind of people] through [what kinds of problems or situations]. She brings her experience in [what life challenges or transitions] to help clients shift from [what struggles or experiences] to [what new abilities or freedoms].
Before becoming a [what kind of] coach, [your name] worked at [list past work or volunteer experience] where she [list any notable achievements]. [If you lack professional experience, talk about what people have counted on you for, what you have contributed to your community, family, etc.]
She has a degree in [list academic achievements or other trainings] and has also earned certification in/studied [any other areas of study or training relevant to your niche]. She believes [something clever here about your philosophy or big vision for your clients].
[Your name] lives in [your home town], where you'll find her [list a few activities or hobbies here, like "teaching quilting, doing yoga and growing prize tomatoes"] with her [3 children, dog, macramé collection, etc.].
Let Your Bio Light Shine!
You're now equipped to write your bio from start to finish. Your first attempts will be wretched (well, mine always are). Just let it flow. Once you've got a few sentences, you can start moving them around and making them pretty.
And remember, the whole point of your bio is to get the sale. Have fun writing it. This is your chance to boldly influence potential clients by highlighting the skills, achievements and vision that make you rock your niche.
Marial Shea is a writer, editor and writing coach. She helps authors and entrepreneurs put their magic into words. Marial's online home is www.marialwrites.com and she'd love it if you drop by.
6 Responses to Write Your Professional Bio — Today!